By Ed Pierce
Significant choices made by voters during Tuesday's general election will shape the direction of the Windham and Raymond communities for the near future.
Through in-person voting, mail-in and absentee balloting, area voters decided the fate of a special referendum in Raymond to withdraw from RSU 14 and chose elected officials to represent Windham and Raymond in the Maine Legislature, the Maine Senate, on the RSU 14 Windham School Board and picked two councilors to serve on the Windham Town Council.
In Raymond, Town Clerk Sue Look said that a total of 3,149 voters cast ballots in Tuesday's election.
The Raymond referendum asking residents if they should withdraw from RSU 14 was defeated with 2,048 votes to 1,018 supporting the proposal.
The referendum was initiated over an ongoing concern from some Raymond residents regarding the town's level of input and the lack of local control about the school district's decisions and it was part of a 22-step process required by the State Department of Education to set up a new school district. But those opposed to the withdrawal said it would do more harm to students than good and the voters agreed by voting no on the referendum.
In balloting for Maine House District 67 representing part of Gray, part of Casco, Frye Island and a portion of Raymond, incumbent Sue Austin, a Republican, received 354 votes in Raymond, while Democrat Susan Accardi received 328 votes and Independent Mark Grover tallied 80. Austin won the
seat overall with a total of 3,085 votes to Susan Accardi's 1,669 and Mark Grover's 913 votes.
Voting for Maine House District 66, representing part of Raymond, part of Casco and part of Poland, incumbent Democrat Jessica Fay received 1,251 votes from Raymond residents to Republican Gregory Foster's 1,060 votes. Overall, Fay won the seat with 2,884 votes to Gregory Foster's 2,745 votes.
"I am grateful to everyone who came out and voted today, and in particular to everyone who worked so incredibly hard to make a day with record breaking turnout run smoothly," Fay said. "We ran a completely positive campaign focused on ideas and collaboration and I am so proud of that. Maine will face serious challenges in the next two years, and I am ready to help us meet them, together."
In Windham, Town Clerk Linda S. Morrell said results of Tuesday's election are official.
Morrell said that in voting for Maine House District 24 representing part of Windham, incumbent Democrat Mark Bryant ran unopposed and received 4,638 votes, while incumbent Republican Patrick Corey also ran unopposed and retained his seat representing District 25 by picking up 4,334 votes.
In balloting for State Senate District 26 representing Baldwin, Casco, Frye Island, Raymond, Standish and Windham, Democrat Bill Diamond received 7,426 votes in Windham to Republican Karen Lockwood's 3,784 votes. Voters in Raymond cast 1,779 votes for Diamond to Lockwood's 1,289 votes and overall, Diamond retained his seat in the Maine Senate.
"I want to congratulate my opponent, Ms. Lockwood, for running a thoughtful and positive campaign.
Mostly, I want to thank the voters of Windham, Raymond, Standish, Casco, Baldwin and Frye Island for your overwhelming support at the polls," Diamond said. "Once again I'm humbled by your tremendous endorsement of confidence."
Voters chose businessman Mark Morrison to serve a three-year term as the At-Large position on the Windham Town Council over former town councilor Robert Muir. Morrison received 5,521 votes to Muir's 3,739 votes.
In the race for a three-year term representing Windham's East District on the town council, Brett Jones received 5,102 votes to political newcomer Harrison Deah's 3,621 voters. Jones, a captain in the Old Orchard Beach Fire Department and a longtime Windham resident, was appointed by the town council in April to fill the remaining months of the East District seat vacated by the resignation of Councilor Rebecca Cummings in February.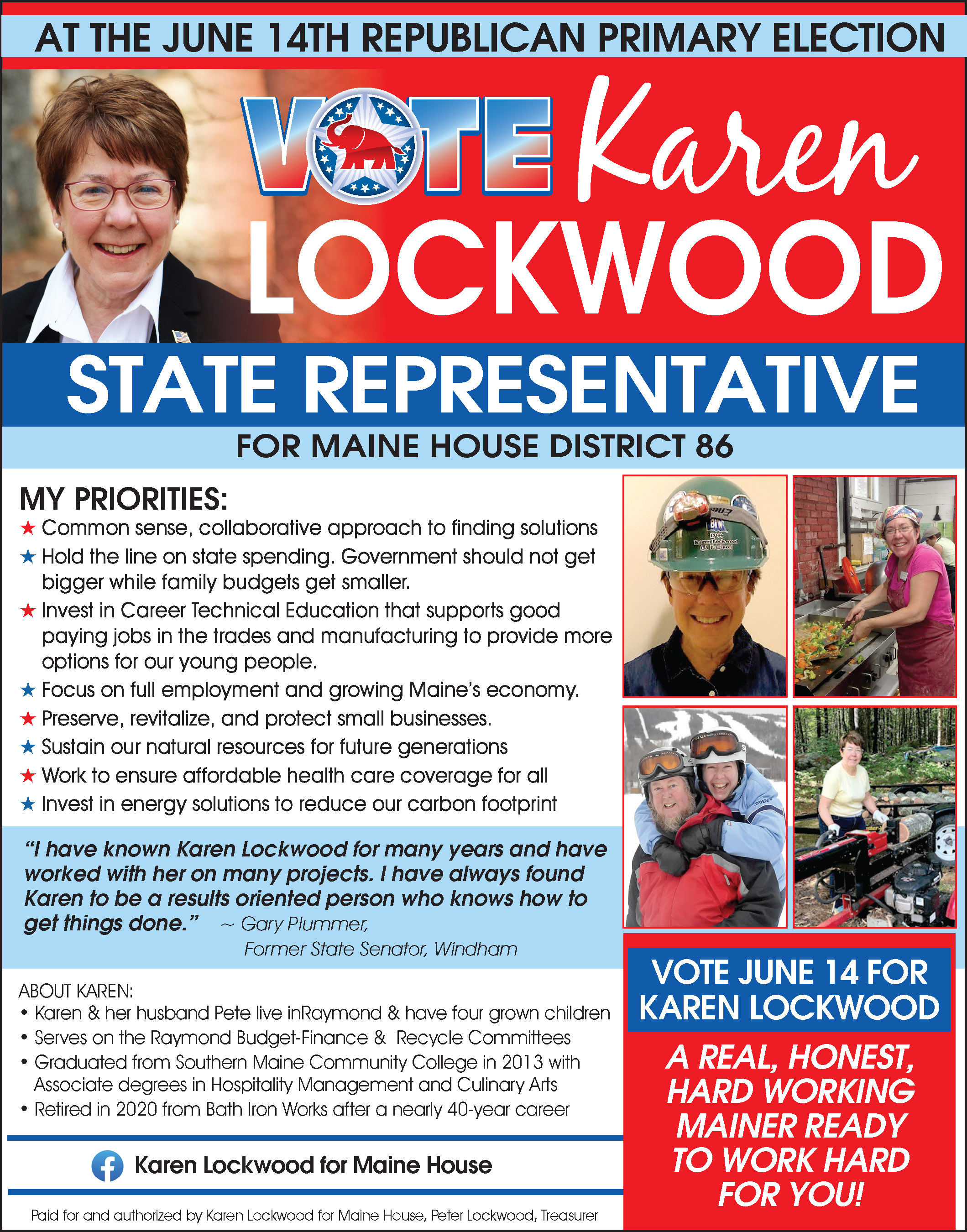 "First of all, I'd like to thank all those who supported me," Jones said. "I am extremely honored to be able to serve the citizens of Windham and I am excited to continue the work of moving Windham forward."
Also elected during Tuesday's voting were incumbents Kathyrn Brix and Pete Heansler to three-year terms on the RSU 14 Windham School Board. Brix received 6,864 votes and Heansler tallied 4,315 votes.
Voters also elected Christina Small of Windham to serve a one-year term on the RSU 14 Windham School Board. Small had been appointed to serve on the board earlier this year following the resignation of Dawn Dillon. She tallied 8,570 votes.
"My priorities for this year will be helping to align our procedures with ever changing regulatory guidelines, the improvement of our distance learning program and continuation of our Social Emotional Learning work," Small wrote about her candidacy in a letter to the editor last month. <