The Windham Economic Development Corporation will host
several free workshops on Thursday, July 15 to discuss
upcoming infrastructure projects in North Windham, Route 302
corridor traffic and roadway network improvements, and the
North Windham Wastewater Collection and Treatment Project.
PHOTO COURTESY OF WEDC
By Ed Pierce
Commerce is booming in Windham and to keep business owners, real estate brokers, bankers and commercial property owners informed about opportunities ahead, the Windham Economic Development Corporation will host several free workshops next week to discuss upcoming infrastructure projects in North Windham, Route 302 Corridor traffic and roadway network improvements and the North Windham Wastewater Collection and Treatment Project.
According to WEDC Executive Director Thomas Bartell, workshops will be conducted in two sessions on Thursday, July 15 at the Microtel Hotel, 965 Roosevelt Trail, Windham. The morning session runs from 8:30 to 11 a.m. and will cover Retail Market Analysis for the town, while the afternoon session runs from noon to 1:30 p.m. and covers upcoming Downtown North Windham infrastructure improvements.
Bartell said interested participants can attend one or both sessions of the workshop.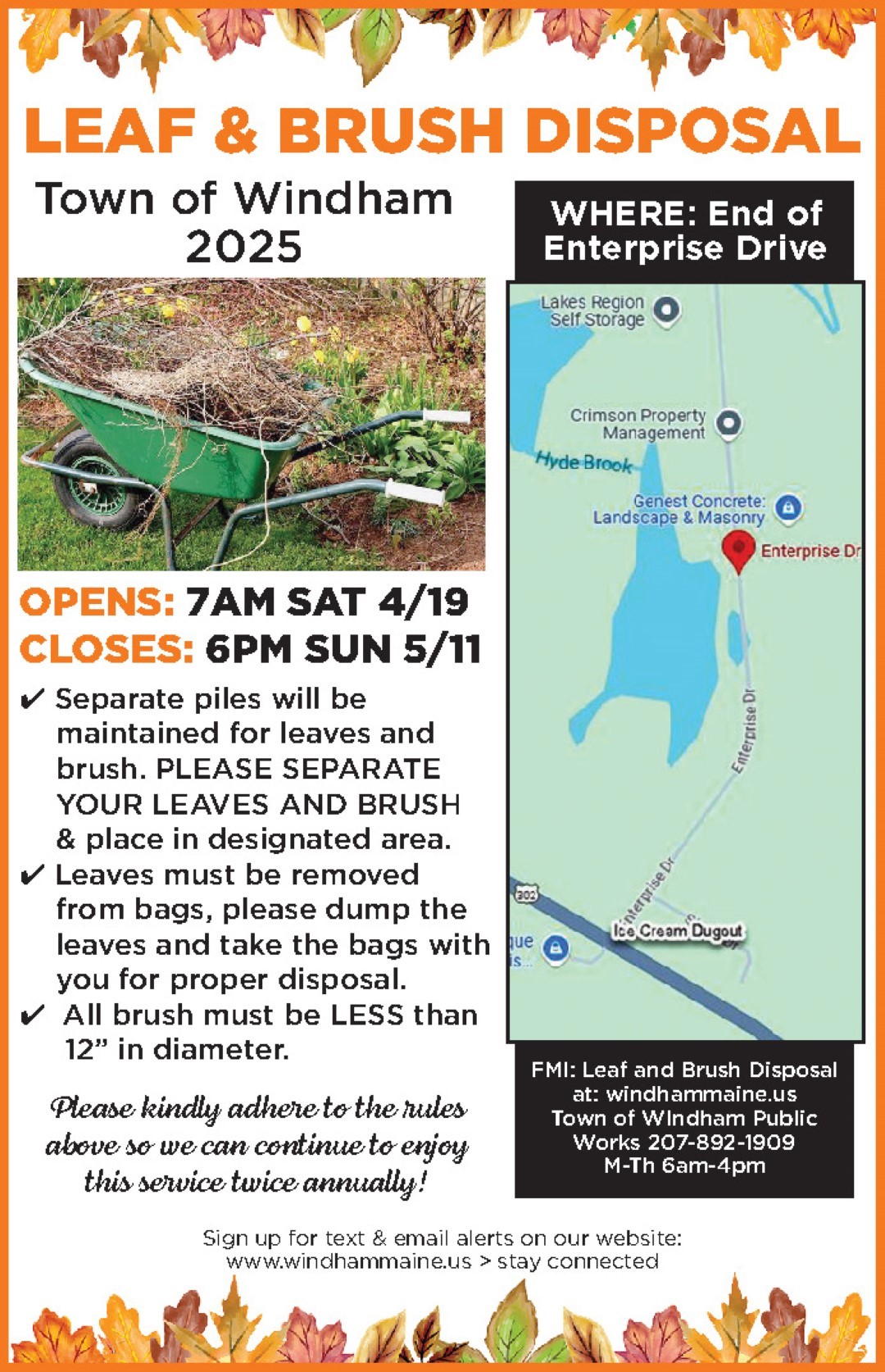 "Business owners, commercial brokers, commercial bankers, and property owners are all encouraged to attend," he said. "The first workshop starts at 8:30 am and breakfast is included with the Retail Coach covering the Windham Retail Market Analysis. Their research and analysis can help your business thrive and identify further opportunities in the Windham market."
He said that the Retail Coach is a national retail consulting, market research, and development firm that combines strategy, technology, and creative expertise to develop and deliver high-impact retail recruitment and development strategies to local governments, chambers of commerce, and economic development organizations.
"The Retail Coach also brings to Windham their "SmallBiz360" Program," Bartell said. "SmallBiz360 works with new and existing small businesses to better understand their customers and the Windham Retail Market and provides these businesses with the opportunity to develop or improve their website and to develop e-commerce platforms to extend their businesses online."
The WEDC has contracted with the Retail Coach to evaluate the Windham Market place and Bartell said that the WEDC would like to share that knowledge with participants.
"The Retail Coach has been able to analyze the market for our local retail clients and capture data that is important to help our local businesses reach new potential clients and better serve their current clientele," Bartell said. "We are excited to get together in person to share this data with local business owners and brokers, and banking representatives."
The second session includes lunch and will address Downtown North Windham sewer and traffic improvement projects and resulting real estate commercial opportunities.
"Through its 21st Century Downtown plan, the town of Windham has been working on two transformative projects in the North Windham Downtown for a number of years," Bartell said. "The North Windham Moves transportation project looks to add to the road network throughout the commercial district which will open additional commercially zoned property to development.
In addition, Bartell said that the session will share details about the North Windham Wastewater Collection and Treatment project which will provide the first public sewer system in the commercial district.
"This new wastewater project will allow for increased density throughout Downtown North Windham," he said. "We will share the next steps and how it could benefit current and new commercial real estate opportunities. Anyone in the commercial broker/real estate/banking field or other interested local business owners should attend this workshop to learn more."
The mission of the Windham Economic Development Corporation is to encourage economic growth and development in a manner that provides a welcoming atmosphere for business while protecting the town's rural characteristics and natural resources. It strives to encourage economic growth and development in a manner that supports increased prosperity in Windham and improves the quality of life for all residents.
For more information or to register to attend one or both free workshop sessions, contact Bartell at 207-892-1936 or send an email to thbartell@windhammaine.us. <