Members of Raymond's Beautification Committee
and volunteers gather to pick up evergreen holiday
wreaths to be hung along Route 302 and Raymond's
Business Corridor last year. A total of 74 wreaths
will bring the holiday spirit to the town this year.
PHOTO BY JESS FAY
By Briana Bizier
Just like carols on the radio and candles in the windows, beautiful evergreen wreaths are a festive way to welcome the winter holiday season and a cheerful addition to December's short, cold days. If you've driven through Raymond's Business Corridor along Route 302 in previous Decembers, you've probably noticed the large evergreen wreaths hanging beneath each of the corridor's decorative light poles. While you might be forgiven for thinking these holiday wreaths, like Santa's sleigh, appear through a bit of holiday magic, the truth is that the wreaths are a labor of love from the Raymond Beautification Committee, the Raymond Vitalization Committee, and the entire community of Raymond.
Each fall, those two committees collect funds in order to purchase the 74 large wreaths necessary to deck the halls of Raymond
's Route 302. Maine Lakes Wedding and Event Florist purchases the wreaths in bulk, at cost, and florist Jessica Fay ties the cheerful red bows herself.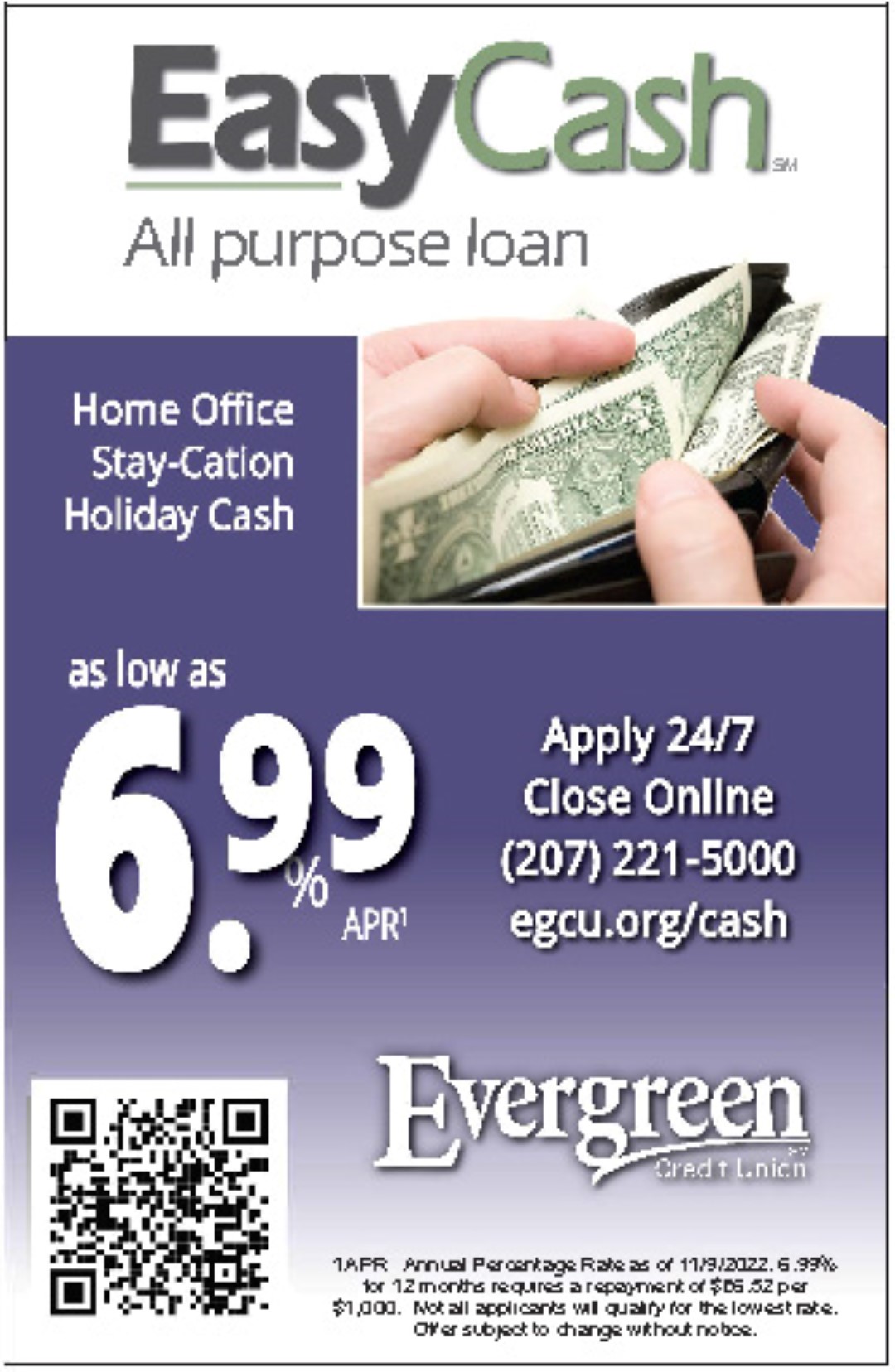 "I got involved because the Beautification Committee approached me to purchase wreaths back when my business was called Raymond Village Florist," Fay said. "It felt like something I could do to contribute by getting wreaths for the group at cost and the same with the bows. As a retail business on
the 302 Corridor, it was really nice to see the area decorated for the winter holidays."
Fay is still working with the Beautification and Vitalization Committees to provide holiday cheer along Route 302. "I've kept doing it because I really like the community spirit the project exemplifies," Fay continued, "even though making 74 red velvet bows makes my fingers a little cramped! It is a good way for me to get into the holiday spirit."
Typically, the town's Beautification and Vitalization Committees seek the donations to fund their wreaths through door-to-door solicitations. However, like so many other aspects of normal life, COVID-19 has upended the tradition of collecting donations by going door-to-door. So, this year, community donations to the annual wreath campaign are more important than ever.
There's no denying that 2020 has been a strange and upsetting year. The darkness of this coming December could feel especially oppressive after the individual sacrifices we have all made during this horrible pandemic, not to mention the political turmoil of this last election. These are trying times when it is especially important for us to come together as a community.
Traditionally, a Christmas wreath is made with evergreen branches to symbolize eternal life, and those branches are shaped into a circle that symbolizes unending love. This year, hanging over 70 wreaths of life and love beneath the lampposts along Route 302 is a beautifully fitting way to commemorate what brings us together as a community, and what will help us get through the dark times and into better days ahead.
The Raymond Beautification Committee and the Raymond Vitalization Committee urge you to please consider making a tax-deductible individual donation to purchase holiday wreaths for Raymond's Business Corridor.
Checks can be made out to the Town of Raymond; please note your donation is "for the Beautification Committee" and can be hand-delivered to the Raymond Town Hall or mailed to 401 Webb's Mills Road, Raymond ME, 04071. <