By Masha Yurkevich
COVID hit us all a lot. It struck workplaces, schools, shopping malls and the list goes on, but perhaps where it was most felt was in the theater industry. Since the pandemic, it has been difficult for the theater program at Windham High School to get its wheels rolling again. But as time goes by and everyone is slowly adapting, so is the theater program. This November, they will be staging the musical, "Little Shop of Horrors."
Starting Nov. 11 and running through Nov. 20, Windham
High School will stage 'Little Shop of Horrors,' a musical
about a new talking species of plant named 'Audrey II' and
based on the hit Broadway show and film. Tickets will be
on sale at the door only. COURTESY PHOTO
It's about a plant nerd who finds a new species which starts fulfilling all his wants and desires, but with an unexpected twist for the end. The production is based on the hit Broadway musical and 1986 film "Little Shop of Horrors" and it is rather campy, a blend of gospel, rock, sci-fi, Greek tragedy, and 1950/1960s pop culture.
The musical is led by director Rob Juergens who has been at the Windham Middle School for the past 20 years. Before Juergens first started directing, he used to build sets and work backstage.
"There is a huge gratification gained from watching something you helped build be such a huge part of a show," says Juergens, who has served as director for the past 14 years.
He said that directing a show means he's responsible for the overall vision of the production, Juergens said.
"There are so many other pieces that others bring, costumes, set, lights, props, music, choreography, etc.," he said. "My real job is to take all this creativity and inspiration and weave it all together."
Liam Yates is part of the cast and plays the voice of Audrey II — better known as The Plant.
"This year I also have the honor of being the assistant (student) producer of the show," says Liam. "My favorite part of the show is the plant itself. The props look absolutely amazing, and our puppeteer really brings Audrey II to life."
Yates is a senior and has been part of Windham High School's theater program for four years now.
"I'm thrilled to see the number of underclassmen involved with this show," says Yates. "COVID took a big hit on the performing arts, and I'm glad to see the Windham High School Theater Program has a very bright future."
Sophie Koutalakis, a senior at Windham High School, has been part of the theater programs since her freshman year and plays the role of Audrey in this musical.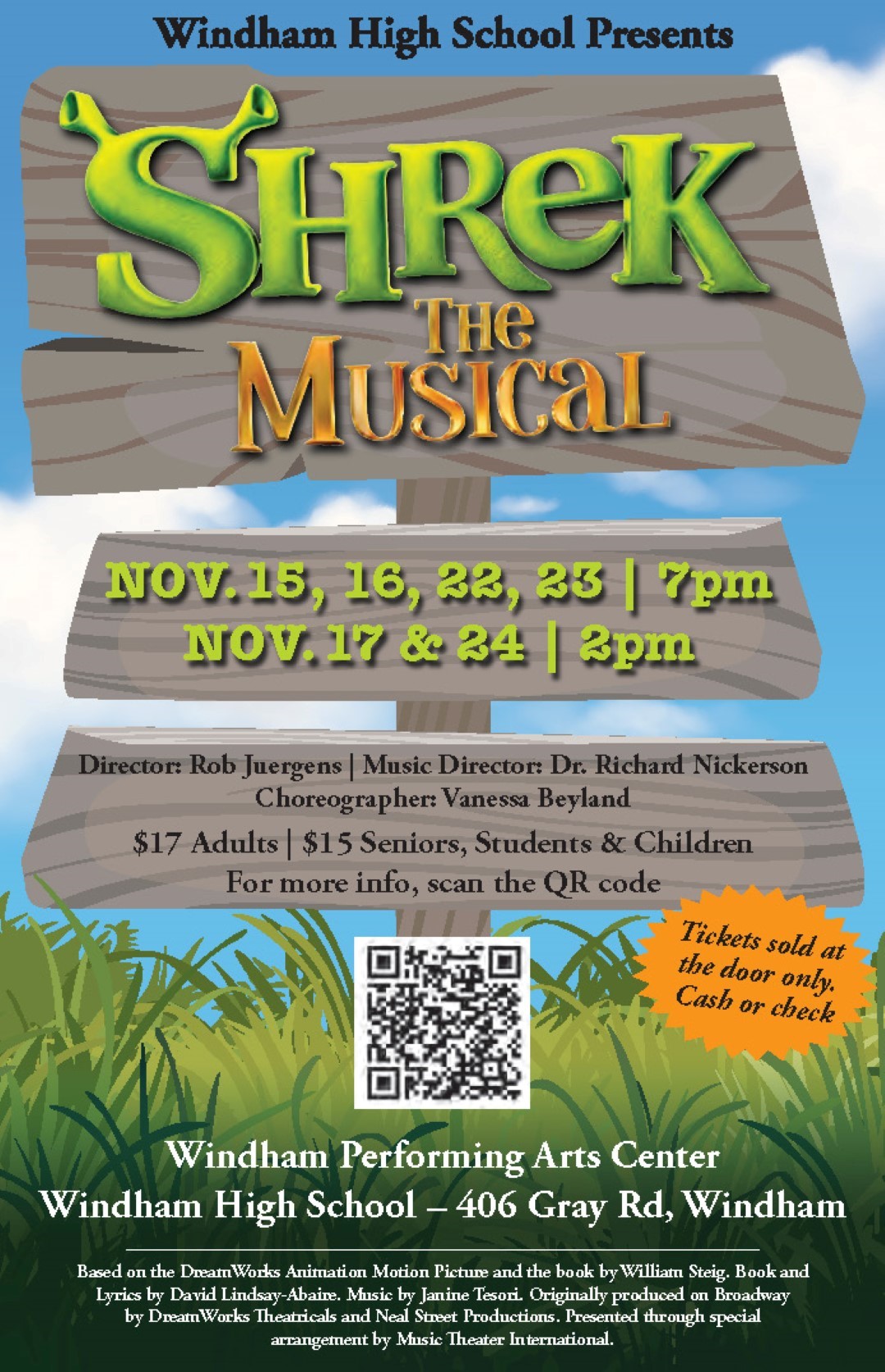 "My favorite part is the song 'Git It'," says Koutalakis. "All of the first act has built up to this one song, and our Audrey II sounds wonderful. I'm only onstage briefly during this song, but it is a fun scene to get to act in."
Koutalakis says that this show has been very fun to work on because the horror-comedy aspect makes it so fun to play around with.
"For me," says Koutalakis, "getting to develop Audrey's character has been such an awesome experience, and I love getting to work with my peers every week to put together an amazing show."
Little Shop of Horrors will be presented at the Windham Performing Arts Center on Nov. 11, Nov. 12, Nov. 18, and Nov. 19 at 7 p.m. and on Nov. 13 and Nov. 20 at 2 p.m.
Tickets are $12 for children, students, and seniors, and $14 for adults.
For Juergens, he says his favorite part is watching everything come together. He enjoys watching the students grow into their parts and become a character.
Juergens said he is also very grateful for Heather Platti , Jen Chasse, Mychelle Koutalakis and everyone else who helps put the show together.
"They are my amazing producers," says Juergens. "Without them, I am helpless," he said.
For more information about Little Shop of Horrors at Windham High School, call 207-893- 0909. <