To encourage and expose students to healthy and locally grown foods, Chef Samantha Cowens-Gasbarro, District Nutrition and Wellness Coordinator, and Jeanne Reilly, School Nutrition Director as well as the lunch program staff have been slowly introducing wholesome diets into the RSU14 lunch program for the past eight years.
But Tuesday, October 2 was an exceptional day for the students of Raymond and Windham. It was "Maine Harvest Lunch" day – a day when students had the opportunity to indulge in all fresh foods that were grown and raised from Maine farmers. There was not one morsel of processed foods or staple from other states – or countries - in Tuesday's lunch.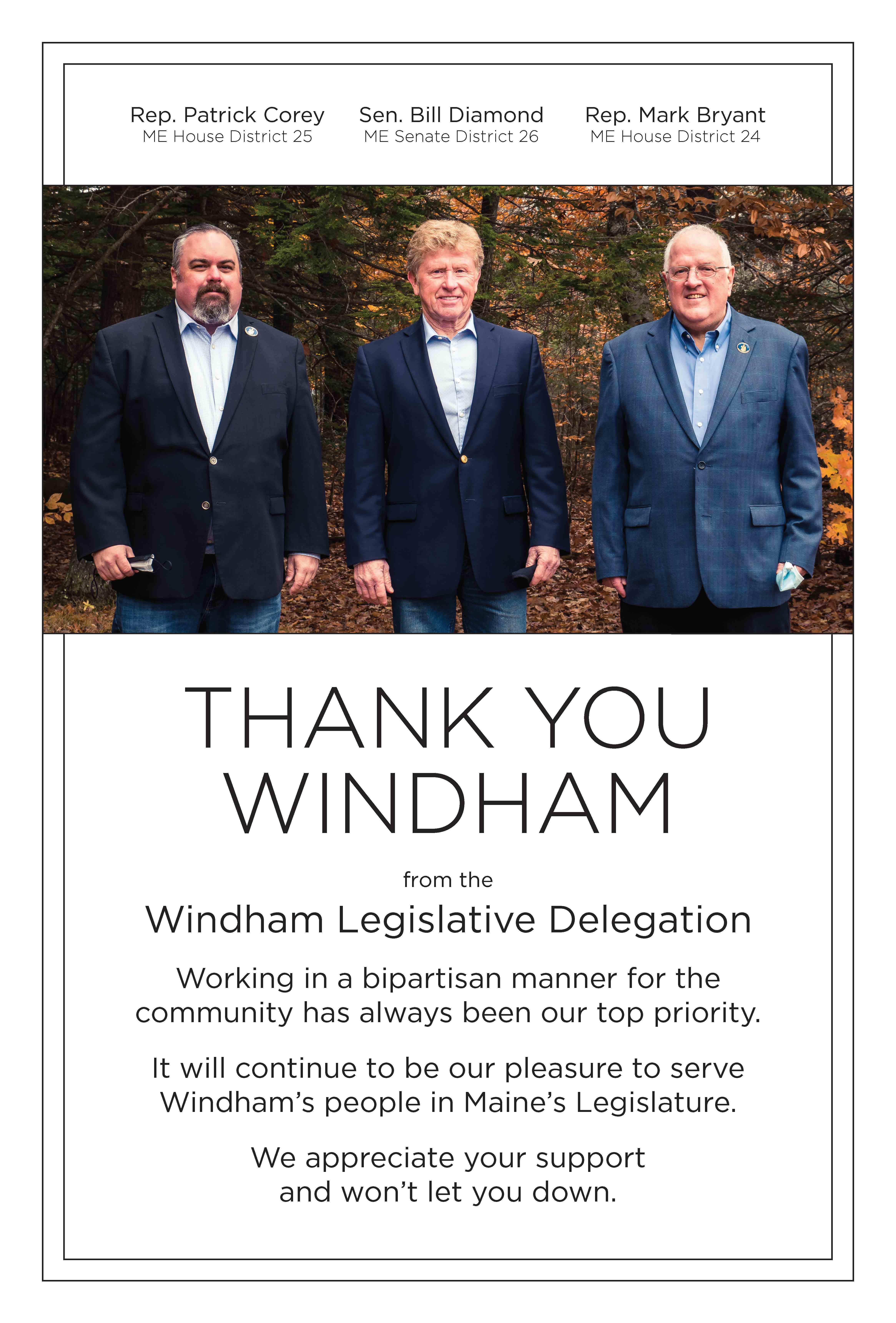 "Our 'Maine' goal is to introduce kids to nutritious, real food and to get them interested and engaged in eating freshly prepared, minimally processed, locally grown foods," explained Reilly. "We want them to know where their food comes from and we want them to be excited about eating healthy and delicious food. We also feel strongly about supporting the local economy by purchasing as locally as possible when we can."
When asked how successful it was to have a full menu of locally grown foods for the students at RSU14, the answer was resounding positive. "The kids loved it," stated Cowens-Gasbarro. "At the high school they loved the [chicken] drumstick bar and so many kids were raving about the roasted delicata squash. Many who had never had it were asking to try it. The kids were pleasantly surprised at the local food options and how they were prepared. One student said this was the best meal they had all year. At one of our elementary schools, those who were lined up at the end of lunch were still trying to finish every last bit on their plate before being dismissed. They needed more time to eat this delicious meal."
Those of us who live in Maine
are lucky to experience and eat locally grown produce, livestock and seafood that are readily available. Cowens-Gasbarro and Reilly have taken advantage of this opportunity by reaching out to Maine farmers to supply the food for the lunch program.
"Farmer Frank" Pecoraro of Mulberry Farms in Raymond was one of the local farms that supplied the organic red potatoes, kale, delicata squash and peppers. He delivered the food to the Raymond Elementary School himself on Thursday, September 27th.
"Farmer Frank" Pecoraro of Mulberry Farms in Raymond delivers food directly from his farm to Raymond Elementary School
"Our partnership with Farmer Frank came about through us having conversations about our mutual dedication to serving this community delicious top-quality food," explained Cowens-Gasbarro.
So, what are the benefits of eating locally? According to the University of Washington, the top eight reasons to eat local foods includes the following:
Local foods are fresher.
Fruits and vegetables begin to lose nutrients as soon as they are picked. Buying local produce cuts down travel time from farm to table.
Local foods are seasonal
.
True, it would be great to have fresh tomatoes and berries all year round but eating seasonally means avoiding "artificial ripening" or eating food that's been shipped thousands of miles.
Local foods are better for the environment.
Some foods are shipped literally thousands of miles; that is a big carbon footprint that could be avoided by purchasing local and seasonal foods.
Local foods preserve green space and farmland.
The environmental question of where your food comes from is bigger than its carbon footprint. Buying foods grown and raised closer to where you live helps maintain farmland and green space in your area.
Local foods promote food safety.
Less distance between your food's source and your kitchen table leaves less of a chance of contamination.
Local foods support your local economy.
Money spent locally stays local. Purchasing locally builds your local economy instead of handing over the earnings to a corporation in another city, state, or country. Also, since the food itself moves through less hands, more of the money you spend will end up in the pockets of those raising and growing those foods.
Local foods create community.
Ever find yourself spending much of your time at the farmers market chatting and socializing in addition to purchasing your produce? Getting to know your farmer, cheese purveyor, fishmonger, butcher, workers at your local co-op, etc., creates a sense of community.
In addition to the organic vegetables by Mulberry Farms; broccoli was grown and sold by Chipman Farms in Raymond, organic peppers and red onions were grown and sold by Hancock Farm in Casco and the chicken for Tuesday's lunch was provided by various Maine farms.
The Maine Harvest Lunch was more of a success than staff had hoped - not only among the students, but for the parents as well. We often get emails from parents thanking us for exposing their children to new and different foods.

Because children have the opportunity to try new foods in a friendly and safe environment, parents report that they are more likely to serve these new foods on their menus at home.

Reilly said. "This is a true success to us."