Windham Deputy Town Clerk Pam Cleaves, left, and
Windham Town Clerk Linda Morrell prepare to collect
absentee ballots filed at a new secure dropbox near the
front door of the Windham Town Hall. The dropbox has
been in place since April and was installed as a
convenient way for voters to file their absentee ballots
during the COVID-19 crisis. Morrell and her staff will also
oversee Tuesday's state primary election in Windham.
PHOTO BY ED PIERCE
By Ed Pierce
Casting a ballot during an election is a right that residents of Windham and Raymond do not take for granted and voting has taken on added significance this summer thanks to COVID-19 restrictions in Maine.
With Maine's Primary vote pushed from its original date of June 9 to Tuesday, July 14 because of coronavirus concerns, a few local positions will be decided at the ballot box and voters also will approve or reject the proposed RSU 14 budget for the coming year.
Windham Town Clerk Linda Morrell has watched many local elections come and go during her 26 years working for the town, with the last 19 spent supervising the counting of votes here.
Morrell will be back at it again on Tuesday, leading a staff of 24 workers working at the polls on Election Day.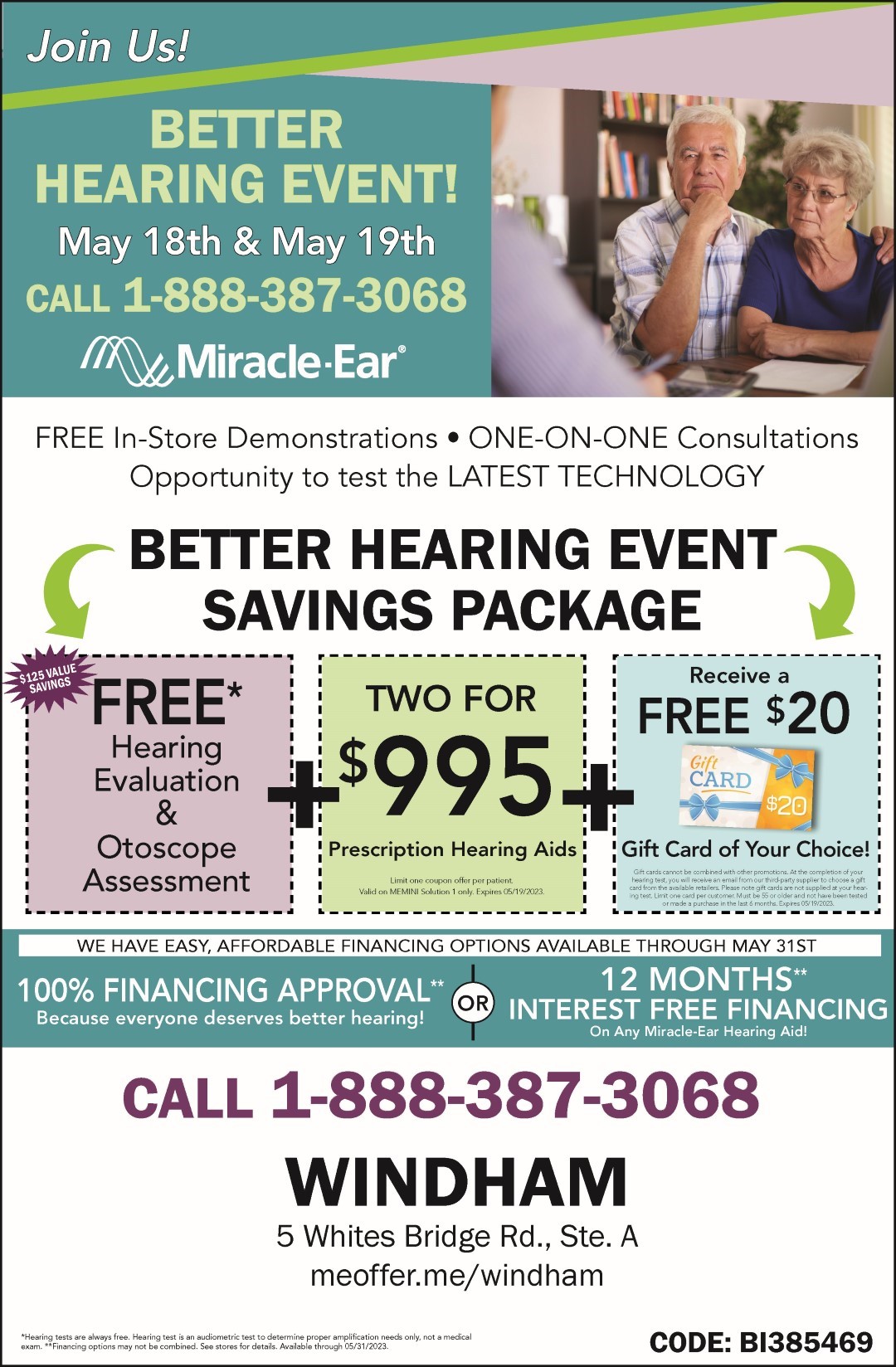 "We've been doing a lot of training preparing our staff for this," Morrell said. "We have two districts in Windham, District 24 and District 25, and with this being a primary, some workers will be assigned to work the Democrat District 24 and others the Democrat District 25, and the Republican District 24 and Republican District 25."
All told, Windham has about 13,350 registered voters, Morrell said, but not all of them will be casting ballots at the Windham High School polling place on Election Day.
"The number of those requesting absentee ballots is up significantly because of COVID-19," Morrell said. "In the past about a little less than a week away from an election we would typically have about 500 requests to vote absentee. As of this past Tuesday, we've had about 2,700 voters request absentee ballots."
To help voters using absentee ballots submit their votes easily during the COVID-19 crisis, a secure dropbox for absentee ballots was installed outside the front doors to the Windham Town Hall in April.
Along with the task of verifying and counting thousands of absentee ballots, Morrell and Windham Deputy Town Clerk Pam Cleaves will oversee poll workers working that day helping check in voters at Windham High School.
Morrell said that polls open there at 7 a.m. and close at 8 p.m. Tuesday. Poll workers are paid $12 per hour and some will work in shifts. Meals will be served to poll workers and Morrell said a few poll workers will be there the entire day from start to finish.
According to Morrell, her greatest nightmare on Election Day would be for voting machines to fail. If that happens Morrell said a repairman will be standing by to resolve any issues that occur Tuesday.
The best thing about working at the polling place on Election Day for Morrell is simple.
"You get to see a lot of people you don't normally see otherwise," she said. "I graduated from Windham High School in 1978 and sometimes I see people I knew in school who are there to vote."
Morrell said preliminary election results are expected to be announced by 9 or 9 :30 p.m. Tuesday.
"We are going to try and handle this election with the utmost integrity and want all of our voters to have a great experience whether they are voting absentee or at the polls on Election Day," she said.
Raymond Town Clerk Sue Look was busy preparing for Tuesday's election and unavailable for comment.
On the Raymond ballot though, there are two open seats for the town's
Board of Selectmen to be filled following Tuesday's voting.
Also on the ballot in Raymond, incumbent board members Samuel Gifford and Lawrence A. Taylor III are running for reelection unopposed for the three-year terms.
Voters in Raymond also will write-in possible candidates for two different three-year seats on the town's Budget-Finance Committee. Incumbents serving on that board, Dana Desjardins and Crystal Rogers, did not choose to run for reelection and no other candidates filed at the deadline to run for those positions.
Incumbent Anna Keeney is seeking reelection to a three-year term on the Windham-Raymond Schools Board of Directors.
Raymond residents also will cast ballots to approve or reject the town's proposed $5 million 2020-2021 budget, and vote to approve or reject

RSU 14's $50.8 million proposed budget, with $10.73 million of that amount to be paid by taxpayers in Raymond.
All voting in Raymond will be conducted at the Jordan Small Middle School gymnasium, 423 Webbs Mills Road.
Like in Windham, polls in Raymond are open from 7 a.m. to 8 p.m. Tuesday.
A
s far as the ballot goes in Windham, voters will be asked to approve or reject RSU 14's proposed $50
.8 million budget and $626,443 for the annual Adult Education budget, with $23.15 million to be paid by Windham taxpayers.
Windham voters also will approve or reject a $2.6 million zero-interest capital bond referendum loan from the Maine Department of Education to renovate five RSU 14 schools bringing them into state health and safety compliance and funding other district facility improvements.
Windham's polling place for residents of District 24 and District 25
Is at W

indham High School at 406 Gray Road with voting scheduled between 7 a.m. to 8 p.m. Tuesday.<