Fuller Center for Housing cyclists gather before a leg of their
3,900-mile coast-to-coast journey that took six weeks to
complete this summer. While in Windham, the riders helped
build a new porch for a resident who has ALS and assisted
in making other home improvements for local seniors as
volunteers for the Sebago Lakes Region Fuller Center
for Housing. COURTESY PHOTO
By Ed Pierce
It's said that when you give of yourself, that is when you truly give. For 21 cyclists completing a 3,900 mile ride from Seaside, Oregon to Maine on behalf of the Fuller Center for Housing last weekend, they gave everything they possibly could by finishing their journey.
Fuller Center cyclists rode from Fryeburg to St. Joseph's College in Standish on Thursday, July 28 and then enjoyed a police escort as they made their way to an overnight stop at the North Windham Union Church. There they teamed up with a group of volunteers from the Sebago Lakes Region Fuller Center for Housing on Friday, July 29 for a building project to add a new front porch for John and Linda Gregoire of Windham and other projects.

John Gregoire is wheelchair bound and paralyzed and is unable to speak. He communicates through a laptop and has been suffering from ALS for the past 15 years. In creating the new porch for the family, Fuller Center cyclists and local volunteers updated the Gregoire home to make it safer and more accessible for John, who is now able to roll out onto the porch for fresh air when needed.

"Thank you to the Sebago Fuller Housing Foundation for helping those who can no longer care for their homes and just need an extra heart and hand to bring their home back to its glory," said Linda Gregoire. "All with consideration of John's needs, nothing has been overlooked to make this project safe and comfortable for him. This group has given us more than a porch with a second means of egress, they've given us a feeling of being cared for and loved. John and I are beyond grateful, humbled and in awe of the kindness showered on us."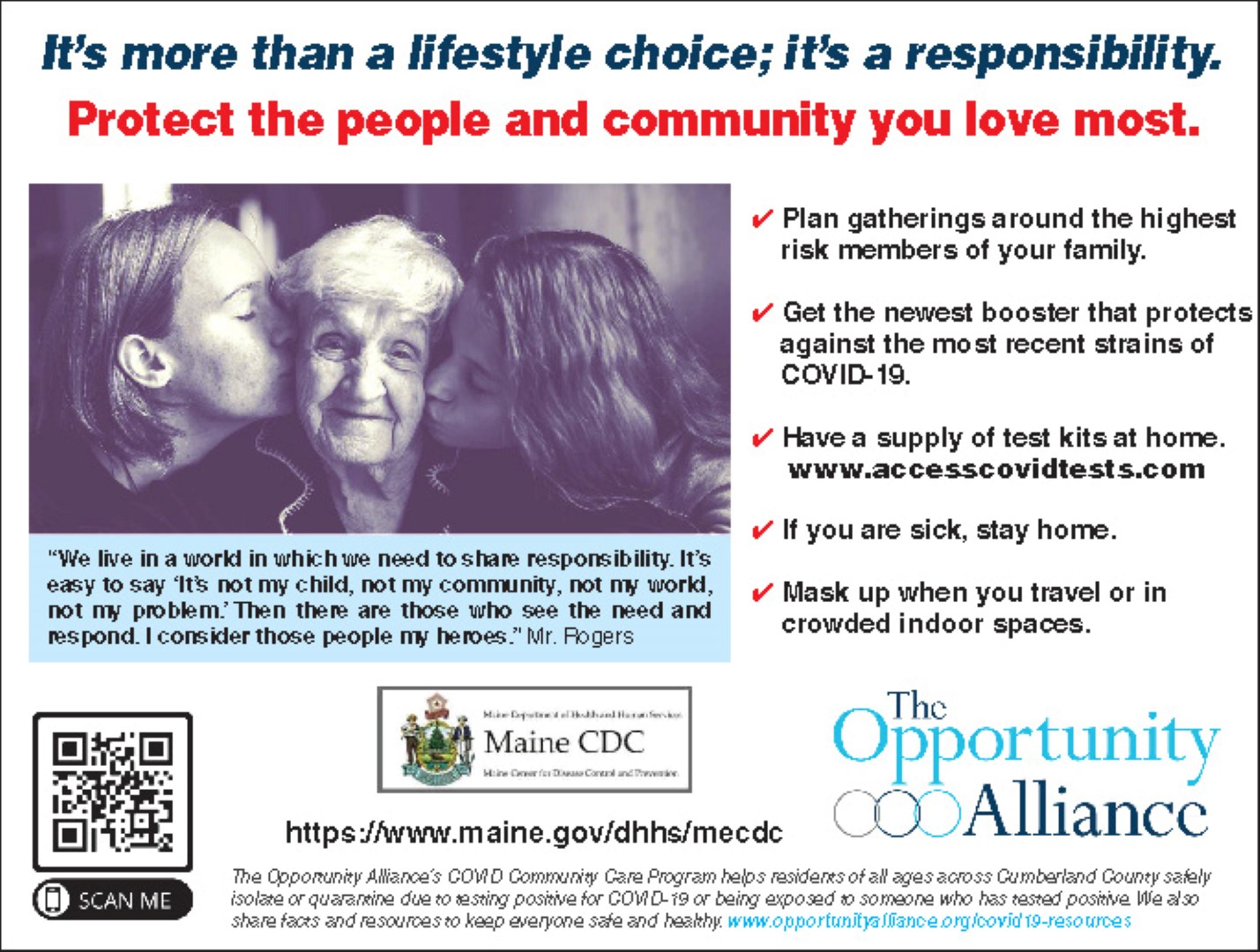 In all, the cyclists and Sebago Lakes Region Fuller Center volunteers worked on eight different housing projects while in Windham before the remaining riders departed for Portland on the final leg of their six-week cross-country ride on Saturday, July 30.
In reaching the Atlantic Ocean, the cyclists wrapped up a coast-to-coast adventure that spanned 14 different northern-tier states and included visits to all of the Great Lakes and an array of locations such as Glacier National Park in Montana, Niagara Falls in New York and Lake Champlain in Vermont.
In Burlington, Vermont, Sebago Lakes Region Fuller Center President Diane Dunton Bruni of Windham joined the group of cross-country cyclists and rode with them on the final trek over to Maine.
The Fuller Center Bicycle Adventure was founded in 2008 as a way to raise funds for The Fuller Center for Housing's work of partnering with families in need to help them have simple, decent places to live through home repairs and new home construction – through dozens of Fuller Center covenant partners across the United States and in 20 different countries.
Since its inception, the Fuller Center Bicycle Adventure has raised more than $3.8 million for the Fuller Center's work through the years, including more than $500,000 raised in 2022. Riders also are instrumental in bringing attention and public awareness about the nonprofit's work through speaking engagements, media coverage and simply by talking with people they meet along the way.
The Fuller Center for Housing was founded in 2005 by the late Millard Fuller, who also created the Habitat for Humanity International initiative. It seeks to end substandard housing and improve the lives of those who may never have owned a home. The group partners with local agencies and volunteers to build or repair homes with partner families who participate in the work and pay the costs forward on a no-profit, no-interest basis that they can afford.
During this year's cross-country ride, the orange-clad cyclists participated in seven build days at stops they made at Fuller Center locations. In the U.S. alone, there are more than 80 Fuller Center sites, and the number continues to grow every year.
To learn more about project eligibility, to become an active volunteer or to make a charitable donation, visit the Sebago Lakes Region Fuller Center for Housing's website at
sebagofullerhousing.org
, send an email to
sebagofullerhousinginfo@gmail.com
, or call 207-387-0855. <