Windham Town Clerk Linda S. Morrell, left, and Deputy Clerk
Judy Vance preside over the municipal election conducted
Tuesday at Windham High School. Morrell said about 36
percent of registered voters turned out to vote in the election
which exceed her expectations for a non-presidential
election year. PHOTO BY ED PIERCE
By Ed Pierce
As the votes were counted late into the evening on Tuesday, candidates, their families, and supporters were anxious to learn the results of municipal and school board races on Election Day.

Windham Town Clerk Linda S. Morrell said that of Tuesday, there were 14,398 registered voters in Windham. Morrell said between those who voted absentee and those who went to the polls to cast ballots, a total of 5,184 people voted in this election, amounting to a turnout of 36 percent, more than what was expected in a non-presidential election year.

Municipal candidates in the election running unopposed included incumbent David J. Nadeau, the current chair of the Windham Town Council, who received 3,964 votes to secure a three-year term for an At-Large seat on the Windham Town Council, and Town Clerk Linda S. Morrell who received 4,054 votes in her unopposed bid for re-election for a two-year term.

Another Town Council incumbent, Edward M. Ohmott, was unopposed for a one-year term for an At-Large seat on the council. He picked up 3,678 votes to win election in his own right after having by appointed by councilors in May to fill the seat of former Town Councilor David Douglass.

No declared candidate filed paperwork for the Windham Town Council's West District by the established deadline in September, but write-in candidate William Reiner received 169 write-in votes to win a three-year term on the Town Council representing the West District of Windham. Incumbent Timothy Nangle chose not to run for re-election but did receive 33 write-in votes for that position in Tuesday's election.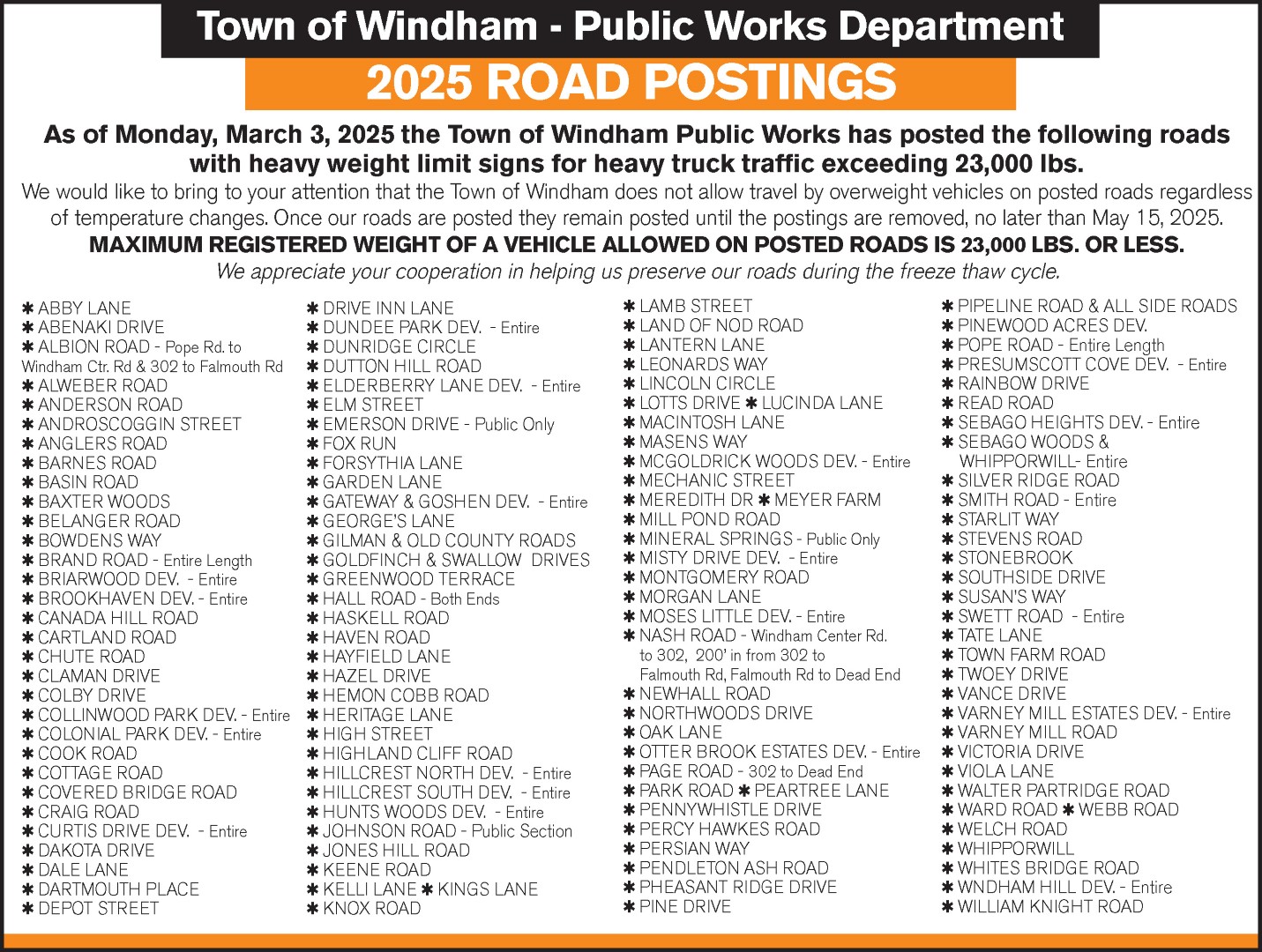 Incumbent Jennie Butler, who taught math at the high school level for 31 years and part-time at the University of Southern Maine, was re-elected for a three-year term on the RSU 14 Board of Directors. Butler was first elected to the school board in 2019.

Newcomer Jessica M.H. Bridges, a resident of Windham for 11 years who has two children attending school in town, received 1,535 votes to win a three-year term on the school board.

Other declared candidates receiving votes in the RSU 14 Board of Directors race were Michael Pasquini (1,199 votes), and Barbara Bagshaw (1,065 votes). Two candidates who had withdrawn from the race earlier, including incumbent Chistina Small and newcomer Carrie Grant, remained on the ballot and received votes on Election Day, with Small picking up 896 votes and Grant tallying 596 votes.

Also on the ballot Tuesday were three statewide referendum questions.

Question 1 asked voters if they wanted to ban the construction of high-impact electric transmission lines in the Upper Kennebec Region and to require the Maine Legislature to approve all other such projects anywhere in Maine, both retroactively to 2020, and to require the legislature, retroactively to 2014, to approve by a two-thirds vote such projects using public land. Windham voters voting Yes were 3,051 and 2,087 voting No. In Raymond, 1,033 votes were recorded for Yes 674 voted No.

Overall statewide, Question 1 had 238,882 voters voting Yes to 164,387 votes of No.

Question 2 asked voters for approval to issue $100 million in general obligation bonds for transportation infrastructure projects, including $85 million for the construction, reconstruction, and rehabilitation of highways and bridges and $15 million for facilities or equipment related to transit, freight and passenger railroads, aviation, ports and harbors, marine transportation, and active transportation projects. In Windham, 3,395 votes were cast for Yes, and 1,725 voting No. In Raymond, 1,150 voted Yes and 552 voted No.

Statewide voters approved Question 2 with 290,142 voting Yes, and 113,007 voting No.

Question 3 asked voters for approval to create a state constitutional amendment to declare that individuals have a "natural, inherent and unalienable right to food," including "the right to save and exchange seeds" and "the right to grow, raise, harvest, produce and consume the food of their own choosing for their own nourishment, sustenance, bodily health and well-being." In Windham, 2,952 votes were cast for Yes, while 2,133 voted No. In Raymond, 985 voted Yes and 714 voted No.

Voters across the state approved Question 3 with 243,458 voting Yes and 156,796 voting No. <